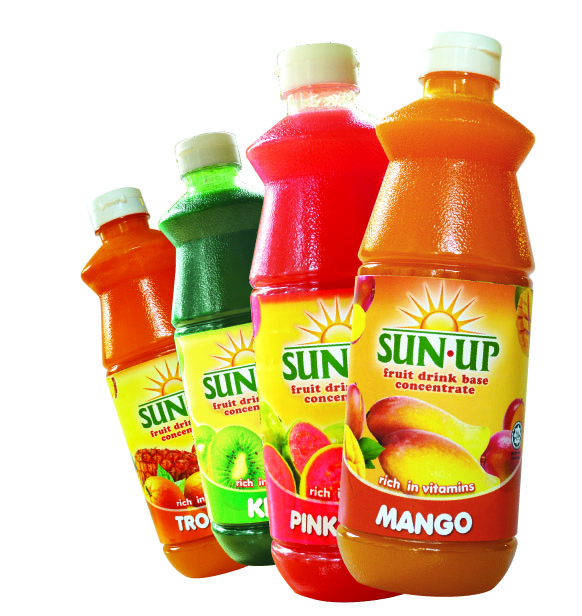 Sun Up is a fruit drink base concentrate made from premium fruit puree and enriched in vitamins C, E and B1. With more than 15 years presence in Mauritius, Sun Up juices, with no artificial colours, are a healthy way to quench your thirst. The whole range of Sun Up fruit drink base concentrates offers a comprehensive selection of fruits that are delicious and refreshing.
Sun Up juices are made in Malaysia. Quality fruits are carefully selected to produce high quality juices loaded with vitamins, which allows you to increase your intake of vitamins needed for the body. Sun Up juices are made with only natural ingredients and are Halal certified.
Taste the different flavours of Sun Up to vary your pleasures: Mango, Tropical, Kiwi, Blackcurrant, Guavas, Exotic Fruits and Red Fruit.  Surprise your taste bud with the original mixes: Mango & Orange, Mango & Peach and Orange & Peach.

Refresh yourself with a delicious glass of Sun UP juice and get your daily vitamins. Make the most of the real taste of fruits in the Sun Up juices. One Sun Up bottle makes more than 50 glasses of delicious juice for the whole family. Enjoy the natural and sweet taste of Sun Up juices without the need to add sugar.
Sun Up juices are available in bottles of 850 ml and 340 ml.
Donnez fruit à vos envies.
Bottle of 340 ml
Bottle of 850 ml