Recipe:
Two Step Oatmeal Breakfast Cookies
Prep time: 5 minutes
Cook time: 10-12 minutes
Yield: 3 servings
Serving size: 4 cookies
Ingredients
¾ cup plain quick cooking oats OR 2 packets low-sugar strawberries in cream oatmeal
2 very ripe bananas (mashed)
1 tsp cinnamon (if using plain oats)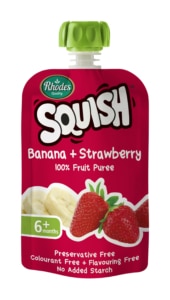 Instructions
Preheat oven to 350 degrees. Lightly coat a cookie sheet with nonstick cooking spray.
In a small bowl, mix oats and mashed bananas and Rhodes Squish Strawberry and Banana. If using plain oats add in cinnamon and sweetener.
Using a spoon, spoon small amounts of oatmeal mixture onto cookie sheet to form bite size cookies.
Bake in oven for 10-12 minutes until cookies are golden brown.
Serve immediately or store in an air-tight container.
Credit : goo.gl/SzGVxC