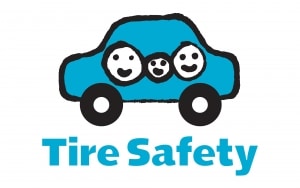 Tyres are vital commodities in which families entrust their lives when they drive. That's why at Bridgestone, we leave no stone unturned and go the extra mile when it comes to your safety. Consequently, each month 10,000 Bridgestone tyres are rigorously tested on more than 200 different types of cars at each of our 10 proving grounds.
Considering how important tyres are for a smooth and safe drive, let's discover some tips and easy care for your peace of mind and safety with Bridgestone. Adopting these regular simple checks and best practices will not only save time and money but also improve your safety when you embark on your drive.
Do a daily visual check to ensure that
all tyres have the same inflation pressure as per pressure chart found on your drivers' door frame in order to avoid irregular wear
no cracks or unusual bulges on sidewalls
no foreign objects (e.g. stones or nails) that could puncture your tyre
Do a monthly tyre pressure check
Use a proper tyre gauge to measure tyre pressure first thing in morning i.e. when tyres are cold.
Inflate tyres only when they are cold as a hot tyre will show inaccurate reading due to inflation & it takes 4 hours for a tyre to cool down
Inflate spare tyre also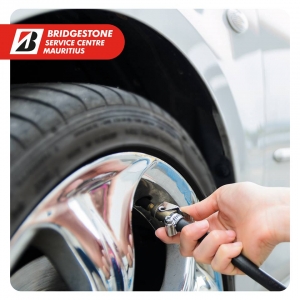 Rotate tyres every 8,000 – 10,000 km
Check your car's handbook for rotating sequence
Visit a professional tyre shop or garage for tyre rotation
Have your tyres balanced at the same time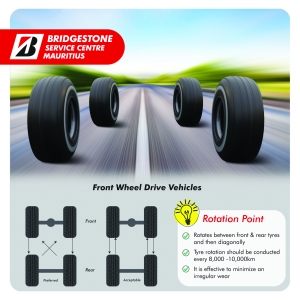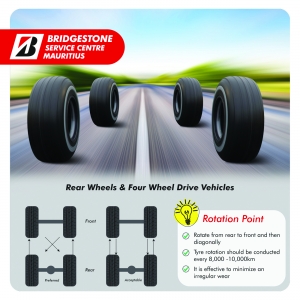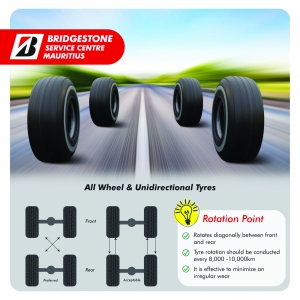 Check the tread depth indicator
Look for the little triangle on your tyre to look for the tread depth indicator
Check if the indicator is flushed with the rest of the tread, if yes, then it's time for changing the tyre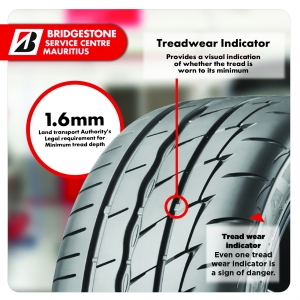 Check the wheel alignment
Misaligned wheels cause tyres to wear more quickly and irregularly, and prevent the vehicle from running or braking in a straight line. The suspension and steering components will also be subjected to extra stress. It is a good idea to have your wheels aligned by a computerised alignment machine as per specifications of your vehicle model.
To reach any of our experts for any advice or quotation, do not hesitate to contact us on 208-1508 or 6972020 or visit us in our service services at Port Louis or Phoenix.
Follow our Facebook page for more tips and best practices: – Bridgestone Mauritius